:: H+Soft Arcade ::
Yes, H+Soft Arcade is still available for download, since I have more or less abandoned this project years ago. You can download it below with all 37 H+Soft Games already installed. The download is large, about 160 MB. It's listed still on several portals and download sites worldwide and is freeware. H+Soft Arcade (to my knowledge) seems to run best on older Win XP PC's and/or higher end gaming PC's - Enjoy! :)

Note: Certain early or original functions in H+Soft Arcade will no longer work properly, such as links to web and info pages and the original deleting and downloading of games for the software is no longer necessary or supported - Just Download the full package below ...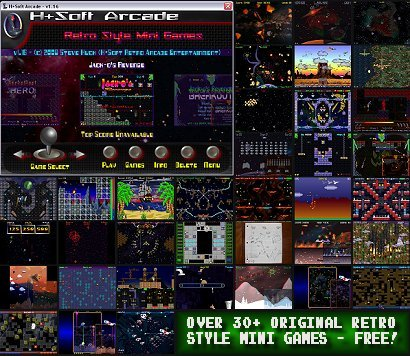 H+Soft Arcade V1.20 - FREE
Play all 37 of the H+Soft (HsRetroGames) original retro style, anaglyph 3D and mini games in one convenient download. To select and play games use your mouse, keyboard or game pad controller. You can get general game info and/or pick and choose the individual games to play - HERE.
:: Download ::
:: Home :: :: Free PC Games :: :: Links :: :: Contact ::
(c) 2006-2017 HsRetroGames - All Rights Reserved